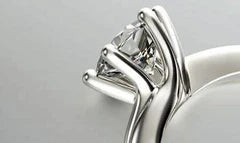 Learn about the different settings used to keep gemstones secure in engagement rings and wedding bands.
Whether you're shopping for an engagement ring and wedding band or creating a custom piece, you'll need to consider the wide range of setting options available. This is the part of a ring that's meant to hold the gemstones in place. However, it also makes a significant impact on the piece's aesthetic. As such, you want to make sure you choose the setting that best delivers the effect you're going for. Here are some of the most common types of settings used in jewelry design.
A Guide to Popular Stone Setting Techniques
Prong
Classic and timeless, the prong setting is usually made with four or six metal claws that wrap around the edges of a stone to keep it secure. This style uses minimal metal materials, which maximizes the amount of light allowed to pass through the stone, emphasizing its brilliance. Prong settings can be a good choice for any piece that has a faceted stone. 
Bezel
Bezel settings include a thin metal rim that encircles the stone. This rim can have scalloped edges, straight edges, or be configured into whichever shape best fits the stone. These settings offer a sleeker, more contemporary appearance and provide the stone with extra protection. Therefore, they're a good option for those who have a very active lifestyle or a job that requires frequent use of their hands. 
Pavé
A pavé setting involves placing several rows of smaller gemstones close together using tiny beads of metal. They're positioned level with the ring's surface, creating a dazzling display of beauty. The continuous line of stones delivers optimal sparkle and adds a touch of elegance to the piece. Generally, pavé settings are used for wedding bands to help enhance the center stone.
Channel
Another popular setting for wedding bands is the channel setting, which consists of stones nestled next to each other between two horizontal channels without any metal separating them. This gives the illusion of floating stones and provides a smooth, seamless look. It also offers additional protection with the metal ridges of the band coming up over the edges of the stones to ensure they're secure.
Tension
With tension settings, the pressure of the metal band is used to keep the gemstone in place. This requires precise calibrations of the stone's dimensions to ensure the correct amount of pressure is exerted. In these designs, the stone is placed into tiny grooves that are cut into the band, making it appear to be suspended in mid-air between the band's two ends. The result is a contemporary and minimalistic style. Tension settings only work well for hard stones, such as diamonds, rubies, and sapphires.
For help comparing the many different stone settings you'll come across while shopping, visit Anderson's Fine Jewelry in Redding, CA. We carry an extensive inventory of engagement rings and wedding bands in all kinds of settings, and our educated staff can explain what you need to know to determine which will most suitably match your style. Our experienced jeweler can also work with you to create a custom design for any occasion. Call (530) 223-3443 to connect with a member of our team or visit us online to start browsing products.