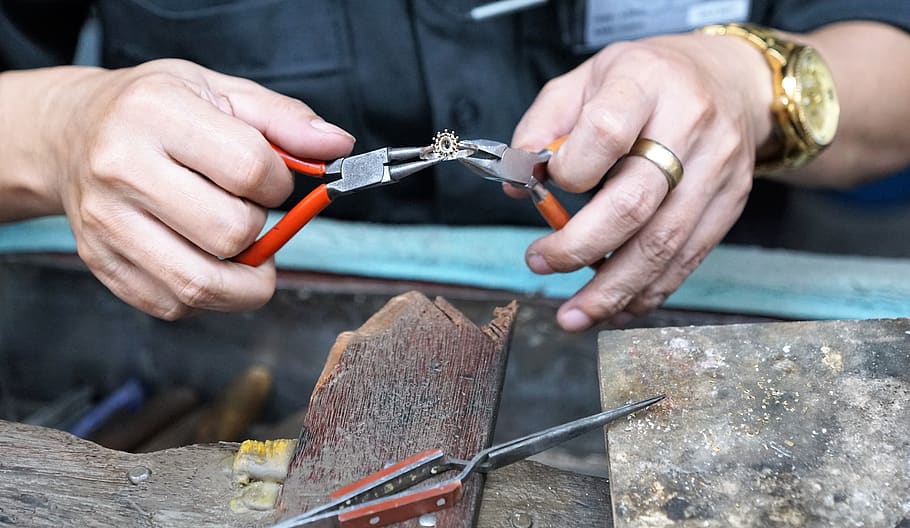 Learn about effective jewelry repair methods to fix an assortment of problems that could be preventing your pieces from being wearable.
Jewelry can add the perfect finishing touch to any outfit. However, some people find it difficult to wear for a variety of reasons. Fortunately, modern innovations in jewelry repair helps alleviate many of those problems so pieces can be worn more safely and comfortably. Here are several solutions jewelers may offer for common issues that arise.
Innovative Jewelry Repair Options for All Your Favorite Pieces
Soldering Bridal Rings
Brides traditionally don both an engagement and wedding ring after walking down the aisle, though this can be uncomfortable at times and cause premature wear and tear to the bands. Rubbing against one another is likely to eventually erode the metal and damage the prongs, increasing the risk of stones falling out. Engagement and wedding rings also tend to slide around on the finger if they aren't properly aligned, which can be irritating and lead to pinched skin. Having them soldered together can help preserve their condition and provide a better fit.  
European Shanks
A ring that continuously spins can be intolerable to deal with and even painful if there's a large center stone jabbing into the side of the finger. Adding a European (Euro) shank is an effective way to keep the ring in place. Doing so will give the ring a flat, squarish bottom with thicker and more angular edges, restricting movement. This is particularly beneficial for rings that are top heavy with larger stones. 
Magnetic Clasps
Conventional jewelry clasps are often small and delicate, making them hard for a person to close on their own. This is especially true for those who have limited mobility or dexterity. Magnetic clasps offer an alternative solution that eliminates the hassle and allows for more practicality and accessibility. A jewelry repair service can attach these clasps, which consist of two pieces that connect using a magnetic force to securely close pieces. 
Hinged Shanks
Over time, swollen and arthritic knuckles can make it impossible to put on or take off certain rings without experiencing serious pain. Hinged shanks made with Superfit™ technology are designed to open with the push of a small button and snap close at the base of the finger, without having to pass over the knuckle. These shanks adjust to different sizes, so regardless of how the wearer's finger changes, the ring will fit.


Monster Backs
Torn or stretched out ear piercings can make it tough to wear any earrings, but specifically larger, heavier pieces with a tendency to droop downward. Monster backs provide a great option, as they're made with bigger circular posts that help support the weight of earrings so they can stay upright. These backs are also good for those who are unable to grip standard-sized backs.
If there are any obstacles keeping you from wearing your favorite jewelry, come into Anderson's Fine Jewelry to discuss your options. Backed by over 45 years of experience, our professionally-trained jeweler has all of the skills, knowledge, and tools necessary to provide you with the best possible fit. We're proud to deliver high-quality jewelry repair relying on superior craftsmanship and the latest industry technologies. Call (530) 223-3443 to schedule an appointment, or visit us online to learn more about our services.