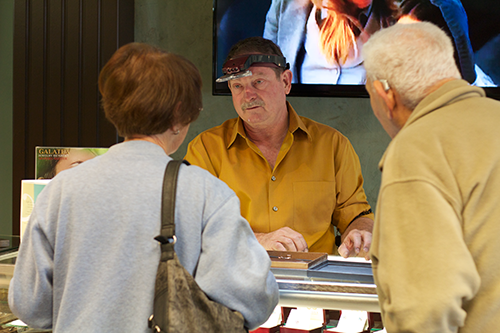 Discover the unmatched advantages of getting your jewelry at a family-owned business. 
Deciding where to buy your jewelry from is just as important as picking out the piece itself. Ultimately, this choice will affect the quality of your investment and overall shopping experience. There are several options to consider, including chain stores, online retailers, and independent jewelers; however, going to a smaller, family-owned business provides a significant advantage. Here are some of the top benefits they offer.
Why a Family-Owned Jeweler is the Place to Shop
Transparency
It's common for mass market retailers to sell products at higher-than-necessary margins to help support overhead costs rather than setting prices according to the materials and craftsmanship of the jewelry. Family-owned jewelers tend to be more transparent with their pricing since they don't have a large staff or big marketing budgets to pay for. As such, the margins are likely to be much fairer to customers. Smaller businesses also prioritize accountability, which means they're committed to answering questions honestly and resolving any problems that arise quickly.
Quality
Most local jewelers are involved in their community and put great effort into building relationships with every customer. Thus, being known for having a high standard of excellence is of the upmost importance to these businesses. In turn, they place heavy emphasis on the quality of the pieces they sell. Inventory is carefully handpicked to ensure they meet customer expectations. Many bigger stores are focused only on turning over as much profit as possible. As a result, their quality assurance is often lacking, and customers are left purchasing mass-produced products that aren't of the same caliber. 
Personalized Attention
When you shop at a family-owned jeweler, you get to work with a team of people who want to make sure you have the best possible buying experience. They'll take the time to help educate you on the wide variety of jewelry options available so you can make an informed investment instead of just trying to make the biggest sale. Some also have in-house jewelers who will collaborate with you one-on-one through the process of creating unique, custom designed pieces.
As a family-owned and -operated jeweler, Anderson's Fine Jewelry is proud to serve Redding, CA and the surrounding areas for more than two decades. We understand how important our relationships are with each customer that walks through our doors and strive to provide top-notch service. Our store is passionate about offering high-quality, one-of-a-kind pieces that will last for generations to come. Call (530) 223-3443 to learn more about our products and workmanship or visit us online to shop.