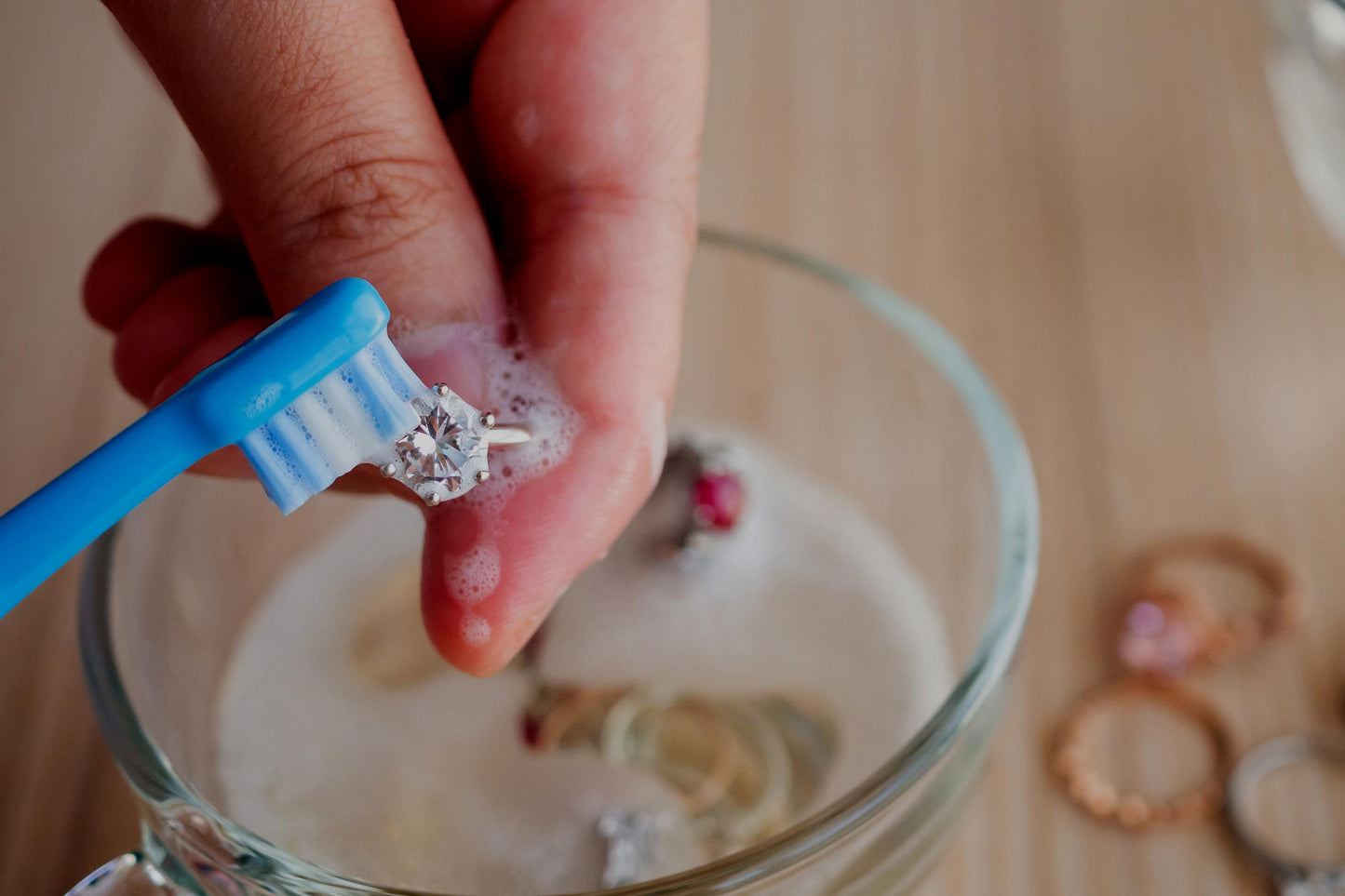 Give your fine jewelry pieces the TLC they deserve with these essential care and maintenance tips so you can make sure they last for generation after generation.
Whether a century-old family heirloom or recent purchase, jewelry often holds special meaning, reminding us of specific people, memories, and seasons of life. Unfortunately, even quality-crafted pieces can begin to show signs of wear or become damaged over time. Thus, it's important to practice proper care to preserve the sentimental and monetary value of your fine jewelry for years to come. Here are some key steps you should follow to keep your treasured items looking their best.
Essential Tips for Jewelry Care
Avoid Harsh Cleaners
Normal exposure to dust, moisture, and pollutants can eventually cause your jewelry to tarnish and lose its shine. For this reason, it's a good idea to clean your pieces at home from time to time. However, be sure to avoid abrasive cleaning products, since these could weaken gemstones and result in discoloration. It's best to soak jewelry in warm water and a mild dish soap and use a toothbrush to gently remove buildup. Then, dry thoroughly with a soft cloth.
Store in a Safe Place
When you aren't wearing your fine jewelry pieces, store them safely away in a cool, dry location. An airtight, fabric-lined container that's specially designed for jewelry is recommended, as this will help prevent oxidation. Place each item separately in its own compartment or wrapped in a cloth to keep them from getting scratched or tangled.
Limit Exposure to Chemical Products
Aside from household cleaners, everyday products such as lotion, perfume, hairspray, and makeup can be damaging to your fine jewelry. These may discolor the metal and leave residue around the gemstones. As a general rule of thumb, you should always apply products before putting on your jewelry to limit exposure. If anything gets on your pieces, immediately rinse and dry them off.
Know When to Take it Off
If you wear the same jewelry pieces day after day, it's easy to forget you have them on. Although, as a general rule of thumb, you should be taking them off any time you'll be participating in activities that involve excessive moisture, heat, or sweat. To avoid damage and discoloration, remove your pieces before getting in a pool or hot tub, working out, showering, playing sports, cooking, or gardening. 
Get Regular Cleanings
To ensure your fine jewelry sustains its luster and integrity, bring your pieces to a jeweler every three to six months for cleaning and inspection. They have the expert knowledge and appropriate tools to eliminate hard-to-reach buildup, buff out deep scratches, and check for any broken or missing parts. This will keep your jewelry looking as good as new.
For help maintaining the beauty of your fine jewelry, rely on Anderson's Fine Jewelry in Redding, CA. We offer professional cleaning and repairs performed by an on-site jeweler with over 45 years of experience so customers can have peace of mind knowing their valuables are in trusted hands. Cleanings are always complimentary and only take 5 to 10 minutes, allowing you to browse our inventory or run a quick errand while you wait. We also carry gentle cleaning solution and silver polishing cloths that are safe and convenient to use at home between visits. Stop by the store today to learn more about restoring your pieces to their original stunning appearance, or call (530) 223-3443 to make an appointment.