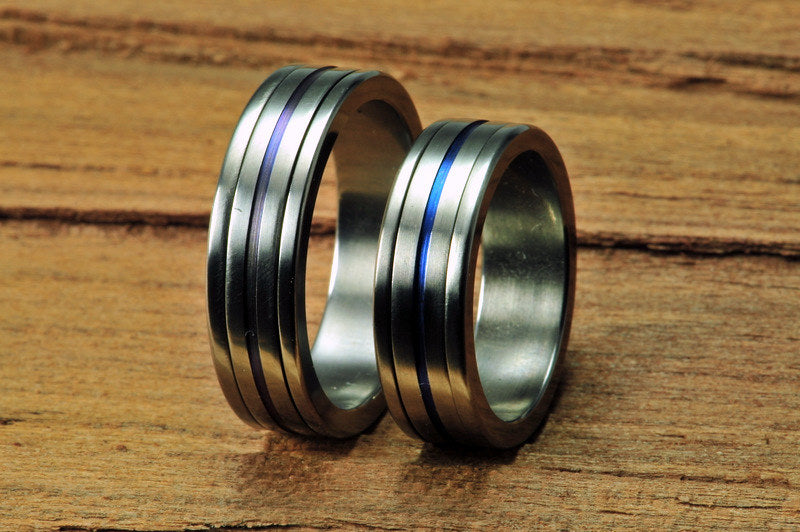 Review this guide to find out more about popular alternative metals used to create wedding bands for men and their benefits.
In years past, men were limited to gold, silver, and platinum when picking out materials for their wedding band. However, as the jewelry industry has evolved, a variety of newer metals have become available. With their unique characteristics, these contemporary options can make a great choice over traditional precious metals. Below is a breakdown of the most common types of alternative metals you or your partner may want to consider.
A Guide to Alternative Metal Wedding Band Materials
Tungsten
Meaning "heavy stone" in Swedish, tungsten is an affordable, hypoallergenic metal that's 10 times harder than gold and silver and 8 times harder than platinum. This makes it extremely strong and durable. It's highly resistant to scratches and won't bend out of shape, which is appealing to those with active lifestyles or who work with their hands.
However, tungsten does have brittle properties, so it can break into pieces if dropped on a hard surface or the right amount of pressure is applied. Also, due to the material's strength, tungsten wedding bands cannot be resized.
Titanium
Known as a lightweight metal, titanium is often selected for men's wedding bands because it's hypoallergenic, stronger than steel, and holds up well against scratches. If scratches do become visible, they can usually be polished off. Titanium will never tarnish or fade and is safe to wear while working since this material isn't a good conductor of heat or electricity.
Like tungsten, titanium rings cannot be resized. Additionally, they require specialized tools if removal is necessary during an emergency.
Cobalt
Another popular option, cobalt wedding bands look similar to white gold or platinum without the higher price tag. This bright white metal is harder than precious metals, making it extremely scratch resistant. It's also shatterproof and doesn't chip, fade, tarnish, or rust, allowing it to endure normal everyday wear and tear. Cobalt is a good choice for anyone who wants a more detailed ring design, as it can accommodate various finishes, inlays, and customizations.
 Similar to titanium, cobalt rings are difficult to remove quickly and must be cut in two places should an emergency situation arise. They cannot be resized either.
Ceramic
Jewelry-grade ceramic, also referred to as titanium carbide, ranks high on the hardness scale but is lightweight. The material is scratch and crack resistant, though it can chip if dropped. Ceramic wedding bands come in a range of colors, which remain consistent through the entire ring, and there is the ability to customize with different inlays.
 Resizing isn't possible with ceramic rings, and in the event of an emergency, they'll need to be shattered by applying pressure with specific tools.
For help choosing the perfect wedding band to represent your relationship, turn to Anderson's Fine Jewelry in Redding, CA. We carry a large selection of both alternative and precious metals jewelry and will provide personalized shopping advice based on your specific needs and preferences. In business for over two decades, our family-owned and -operated store is proud to provide high-quality products that stand out for their beauty and top-level craftsmanship. Call (530) 223-3443 to schedule an in-person consultation, or visit us online to shop.